From Third Generation Dairy Farmers to the 66th Annual June Dairy Parade Grand Marshals; Congratulations Don and Desi Josi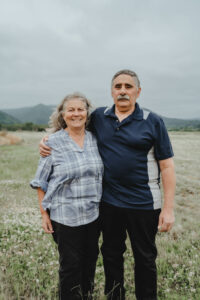 June 23rd, 2023
By Jessica Meyer; Director of Operations
The 66th annual June Dairy Parade is set to honor Tillamook locals Don and Desi Josi, of Wilsonview Dairy, as this year's Grand Marshals. Being named Grand Marshal of the June Dairy Parade is a significant honor, reserved for individual(s) who have made notable contributions to the dairy industry and their community. This year's parade will take place June 24th, 2023 at 11am.
The Josi family has been farming at Wilsonview Dairy in Tillamook, Oregon for generations. Originally from Switzerland, the Josi family emigrated to Tillamook in 1912 and started their dairy farm along the Wilson River Valley. Since then, their Century Farm, Wilsonview Dairy, has remained in the Josi family with Don and Desi Josi being the third generation. In Don's lifetime the farm has grown from 65 acres to 450 acres.
Don and Desi Josi married in 1977, and built a wonderful family of their own. Their children, Denise, Donald, and Derrick, now grown with children of their own, have carried on their families farming traditions. Through gardening, organic vegetable farming, and the continuation of dairy farming at the family's Century Farm, Wilsonview Dairy and beyond at Josi Farms, the Josi family continues to grow their family roots where ever they are planted.
Don holds a Bachelor of Science degree in Dairy Science from Oregon State University. He has served on the Board of Directors for the Tillamook County Creamery Association and has been a member of the Alderbrook Golf Men's League for several decades. In his free time, he enjoys fishing and is a loyal fan of OSU football and baseball. Undoubtedly, Don loves seeing his family grow both generationally and within the industry.
Desi has spent 45 years as a 4-H leader for the Fairview 4-H Club. The club is revered as one of the pioneer 4-H clubs in Tillamook, with more than 110 years of continuous activity and membership. Additionally, it holds a unique connection to the generational ties of the Josi family; for over 100 years, a member of the Josi family has led this 4-H club. Desi is a proud FFA Advocate who held the title of Tillamook FFA Chapter President while in high school and was one of the first women allowed in FFA. She is also a woman of many talents, including quilting, having quilted over a dozen quilts for retiring Tillamook Dairy Princesses. Apart from being a devoted grandmother, she enjoys gardening and traveling.
Don and Desi have focused heavily on the promotion of Jersey Cattle over the years and have been devoted to serving their fellow farmers during this time. Through their efforts, they have increased promotion and communication within the industry even traveling near and far to conferences and Jersey shows to educate farmers. In 2020, Don and Desi Josi were honored by the American Jersey Cattle Association with the prestigious Master Breeder Award.  According to [usjersey.com](http://usjersey.com), "The Master Breeder Award is bestowed annually upon a living AJCA member, family, partnership, or corporation, who, in the opinion of the Board of Directors, has bred outstanding animals for many years and thereby has made a notable contribution to the advancement of the Jersey breed in the United States." This award further validates their aptitude for breeding Jersey cattle and their devotion to improving purebred Jerseys through thoughtful consideration of pedigrees and bloodlines.There is no doubt that Don and Desi Josi have developed and cultivated some of the best Jersey cattle in the world.
Every year Grand Marshal nominations that are submitted must qualify by meeting the following criteria: affiliation with the dairy industry and a history as a community leader and volunteer. It is safe to say that without question, Don and Desi Josi exemplify those qualifications for the honor of Grand Marshal. Both Don and Desi Josi have made significant contributions to their community over the years, and it is with great honor that they are being recognized as Grand Marshals for the 66th annual June Dairy Parade.
Congratulations, Don and Desi Josi!
Photography by: Jessica Meyer
Information in this article was supplied from the nomination form and other sources.