by Mallory Gruben
Communications Manager
The long-awaited grand opening day for Grocery Outlet Bargain Market in Tillamook drew more than 100 shoppers ready to score deals that would make them say, "Wow!"
Grocery Outlet, the nation's fastest-growing, extreme-value grocery retailer, officially opened its new Tillamook location Thursday, June 24. The store is independently owned and operated by Tamara and Stephen Tuttle, who are originally from Nehalem.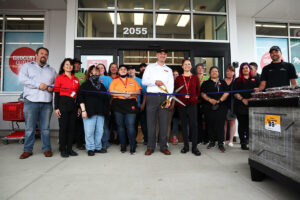 "We've have been waiting for years to get back home," Tamara Tuttle said at the grand opening ceremony. "And we know that you've been waiting a long time for this store."
The comment was met with cheers from the crowd; at least one shopper replied with an enthusiastic, "Yes, we have!"
Plans to open a local branch of the California-based grocery retailer date back to 2018. The Tillamook City Planning Commission approved a proposal for the 18,000-square-foot store in October of that year but required the company to meet several conditions, including receiving some state and federal permits.
Over the next three years, the store successfully met those conditions and began to build up the storefront at 2055 N. Main Ave. The store is located right off Highway 101 between Roby's Furniture and the Coastal Plaza. It employs 30 people.
"We're here to stay, and we are very much looking forward to building a wonderful place to work for 30 of your neighbors, friends and family," Tamara said.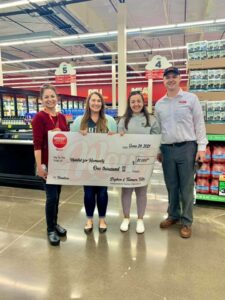 Grocery Outlet encourages its owner/operators to get involved in their local communities – and the Tuttles have wasted no time doing just that. The couple has volunteered to help the Tillamook Area Chamber of Commerce, and on Thursday, they donated $1,000 to Tillamook Habitat for Humanity in the Tillamook store's honor.
"Thank you to our new friends Stephen and Tamara Tuttle, owners of Grocery Outlet, for donating $1,000 to support Habitats building programs," said Habitat Executive Director Cami Aufdermauer. "We cannot wait to see the many ways your new adventure will continue to support our community."
Grocery Outlet offers a full range of products including fresh produce, meat, deli and dairy, along with a wide assortment of natural and organic choices. The store also carries a large selection of beer and wine, health and beauty care and seasonal items.
"In the last few weeks, we've received seven whole trucks of groceries, deli, produce. Anything you want to buy, we have it," Tamara Tuttle said.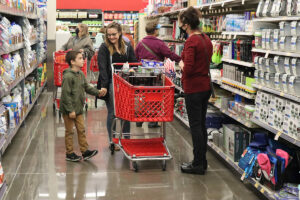 Grocery Outlet is an extreme-value grocery retailer based in Emeryville, California, with 400 stores throughout California, Idaho, Nevada, Oregon, Washington and Pennsylvania.  Each store is owned by an independent operator from the community they serve.
"My heart is full," Tamara Tuttle told the crowd at the grand opening. "I look forward to meeting each and every one of you."