Five-star reviews deem it 'perfect spot for a weekend'
by Mallory Gruben
Communications Manager
Jeremy Due and Rick Moder want to offer you and your family members a home away from home.
After nearly six months of renovations, the duo opened a new lodging option on February 18 with their Tillamook business Jeric By The Sea. The studio apartment offers visitors a coastal farmhouse retreat that's just off the beaten path but not too far from everything that makes a stay in Tillamook great.
"Being here, you feel separate from everything. It's calm, quiet and cozy," Due said. "But you're also a 5-minute drive from a lot of the local attractions, like the Tillamook Creamery or downtown Tillamook."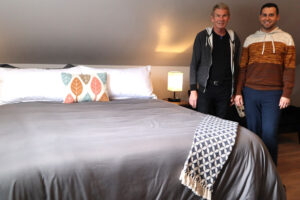 Moder and Due envision the suite as an affordable place to rent for family and friends of Tillamook residents who might not have the space to put them up in their own homes.
"I'm excited to see Jeric by the Sea open for business," said Tillamook Chamber of Commerce Executive Director Justin Aufdermauer. "The location and the price point make it a great place for locals to recommend to their visiting family and friends when they don't have room to host."
Top-tier luxuries
The studio includes a full-size bathroom, a fridge and microwave, a full-size futon and California king sized bed. It sleeps up to three guests, with ample space for all visitors to relax after a long day of Tillamook adventures. It is open for bookings online at AirBNB or through jericbythesea.com.
Moder said he and Due were intentional about offering top-tier luxuries for visitors. The towels, for example, are plush Turkish cotton.
"We've gotten reviews where people have said these are the softest towels they've ever used. It's those little touches we made to make the space special. We were very meticulous about what we included," Moder said. "Even the TV is quality, with Wi-Fi capabilities. We joke that we wish we had something that great in our own home."
The suite is tucked back near a quiet slough right off Highway 101 on the same property where Moder and Due live. Although it's technically part of their house, the rental space feels private. While renovating the space, Due and Moder purposefully added separate entryways or fencing to distinguish the studio from their home.
They hope visitors have comfort, luxury and privacy reflect in the reviews the suite has received so far. Of the six written reviews on AirBNB, all six are 5-star.
"(It's the) perfect spot for a weekend!" one reviewer wrote. "Very nice finishes, safe, centrally located, and a comfy bed. Nice extras like fluffy towels, hairdryer/straight iron, coffee and filtered water."
A dream come true
Moder's and Due's plans for Jeric By The Sea date back far before moved to Tillamook and began updating the private suite attached to their new home. Moder, who spent much of his career in real estate, said he's always wanted to open some kind of lodging option during his retirement.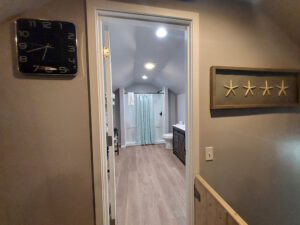 "Originally, we dreamed of owning a campground," Moder said. "The home we purchased in Tillamook had this perfect opportunity built right in, and we thought, 'Let's add a bathroom and do an AirBNB instead.' "
Their property also proved large enough to accommodate an RV site with full hookups, which allows Moder to experience a small-scale version of his campground dreams. The space can be rented through AirBNB; the renter must provide their own RV or camper.
The Tillamook Chamber of Commerce helped Moder and Due get their new business off the ground, Moder said. Jeric By The Sea signed up for a Chamber membership shortly after its formation.
"The Chamber was a great help, especially throughout the permitting process," Moder said. "Justin Aufdermauer (Chamber executive director) walked us through the process clearly and expeditiously."
The Chamber also helped with early marketing efforts. Moder often accepted the open invitation to attend the Chamber's Mornings on Main Street meeting, a once a month, casual networking program for people in Tillamook. During the meetings, he shared updates about the renovations and generated excitement for the new space.
At the meetings, Moder received recommendations for local contractors to hire for the remodel. He and Due hired Bay City-based Tim Hall Builders for the project.
"I still have real estate friends in the Portland area, and they were amazed with how quickly we turned this project around," Moder said. "Tim was great to work with, and he had other local connections that ensured we got all our work done quickly and professionally."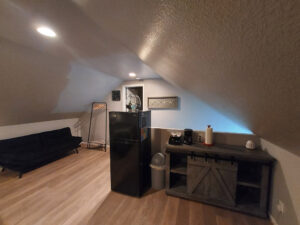 Jeric By The Sea intends to continue working with local businesses, including by referring guests to local restaurants and retailers. Menus for Recess food truck and other local eateries hang on the fridge, and their Chamber membership plaque is proudly displayed at the bottom of the stairs.
"We both grew up in small towns, so moving to Tillamook was our way of getting out of the big city and back to our roots. We also love the Oregon Coast and agricultural community of Tillamook," Due said. "We are hoping to attract people who love the Oregon Coast, too. Or family and friends of locals. We want our visitors to be the type who respect nature and the farming lifestyle."