by Brooke Johnston
Operations Assistant Intern
Time flies when you're having fun — and especially when you're helping the Chamber build a new charitable organization that will benefit your hometown!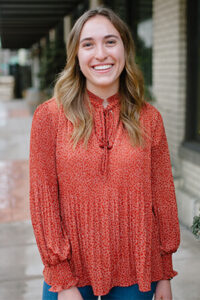 Let me rewind for a quick second, because this is the first Chamber Chatter I've written. My name is Brooke Johnston, and for the last four months, I've served as the Operations Assistant Intern at the Chamber. You might remember me from the welcome article the Chamber published about me, though it did use my maiden name at the time because it came out before my wedding!
I'm a lifelong Tillamook resident, and I graduated from Tillamook High School in 2019. Now I'm studying nonprofit management at the University of Oregon in Eugene. The Chamber kindly offered me an internship so I could get real-world experience and fulfill one of my degree requirements to graduate.
My internship at the Chamber focused on helping with general, day-to-day operations. You may have seen me around at Chamber HQ, delivering visitor guides, helping Sayde at the Farmer's Market or even selling apparel at the Tillamook County Fair.
I also got the exciting opportunity to help lay the groundwork for the Chamber Community Foundation, a charitable organization the Chamber intends to launch later this fall.
For those that don't know, The Tillamook Chamber is a 501c6 mutual benefit membership organization. That means it is limited in the types of grants it can apply for, and it cannot offer tax incentives for people wishing to donate money through the Chamber. As a 501c3 charitable organization, the community foundation will have access to a much larger pool of grant money and will be able to offer tax incentives for donors.
The foundation also will have a broader mission statement that allows it to run community programs beyond the Chamber's focus on its members. For example, the Chamber envisions starting a Young Professionals group under the foundation, because it would allow the network to provide educational and workforce development opportunities beyond the Chamber's direct membership benefits.
The specific details for what kinds of programs the foundation will run are still in the works, and the Chamber plans to work with other community leaders to determine how to shape the foundation in a way to best fit the needs of Tillamook. Stay tuned for updates in the coming months, and feel free to contact Justin at justin@tillamookchamber.org if you have any questions about the foundation at this point.
Although there is still work to do before the foundation launches, I am proud to have played a part in building a strong basis it can grow from. I can't wait to watch the organization benefit the community when it's up and running, even if I'm leaving before I get to see it all start.
This was my first time working with a nonprofit, and I really enjoyed applying the concepts I've learned in class at UO to the real world. I'm also excited to return to my final year of college with practical skills and a real-world knowledge of how to start a charitable organization. I also have the advantage of understanding the difference between a 501c3 and 501c6 and how those two organizations can legally exist together. That's not too bad for an undergraduate!
So now I return to UO to finish up my degree; I graduate in spring 2022 (Go Ducks!) My plan for now is to come back to Tillamook after graduation to gain more career experience in my hometown. I'd like to work at a local nonprofit and, if it all works out, continue to help the Chamber Community Foundation as it grows!