by Mallory Gruben
Communications Manager
As one of Tillamook's newer residents, I get the pleasure of looking at this beautiful dairy town with a fresh set of eyes that makes everything feel new and exciting. That perspective has been especially helpful lately as the Chamber has started the redesign process for our Tillamook Living lifestyle and relocation magazine.
The magazine is intended as a resource that real estate agents, service providers, businesses and other community groups can hand out to new residents as a go-to guide of the town. It's packed full of information about Tillamook's local industries, services, retail shops, hikes, community service groups and so much more. It covers everything from hooking up electricity when you first move in, to finding a new doctor or dentist, to attending a community event once you've settled in. And it includes the Chamber's complete membership directory.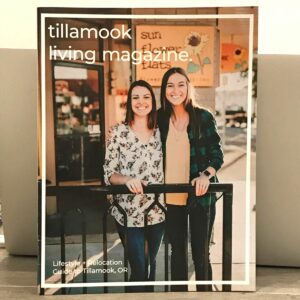 The Chamber started publishing Tillamook Living last year. It was a project born out of conversations with business owners and community leaders about how we could recruit and retain new workers. In its simplest form, Tillamook Living is a tool to show off this place we are so lucky to live work and play in – and draw new talent into our ranks.
Tillamook is the type of rural community where you know your mail carrier by name and rally together to help a neighbor in need. But unlike some rural towns, Tillamook also has three big name grocery stores, access to world class seafood and craft beer and ample opportunities to hike, paddle or fish in some of the most beautiful landscapes in the country!
Tillamook has all the benefits of small town living without losing any of the big city amenities people want. And that's a fact we must communicate with potential future residents! We need to show new residents how amazing Tillamook really is, and we believe Tillamook Living is the best way to do that.
Speaking from my own experience, the magazine was a really helpful tool in getting to know the community. My personal copy is dog eared and marked up in many places, and I still refer to it when I'm looking for a particular business or service in town.
But I come to Tillamook from another small town. I already know the value of living in a rural community, and I seek out the special parts of a small town that make it great. I understand when the magazine says Tillamook has many community events, it doesn't mean just events. It means beloved traditions unlike any event you've attended before. It means special moments the entire community looks forward to, so we can gather together and build relationships.
People from larger cities might not be as adept at finding those special things or reading between the lines. So this year we are using a fresh set of eyes to redesign the magazine to better communicate the benefits of living in Tillamook.
We plan to add multiple feature articles that highlight our businesses, our community leaders and our local industries. These articles will show off the personality of Tillamook. But more importantly, they will explicitly share how Tillamook stands out from other rural communities. The articles will answer the "why" in "Why move to Tillamook?"
Once all is said and done, the Tillamook Living magazine will look very different from last year's edition. But the publication will be even more useful for newcomers than the current edition. Copies will be available later this fall.
And should you come across a copy of Tillamook Living later this year, I hope you'll flip through and give the articles a read — even if you're a longtime resident. If we've done the redesign right, the magazine will give you a fresh set of eyes to remember why exactly you chose to live, work and play in Tillamook!