by Mallory Gruben
Communications Manager
As the manager for Port Storage, Linda Adler deals with the business of "stuff."
Whether its stuff people are storing between homes as they plan a move, stuff that regular visitors want nearby during their annual coastal vacations, or stuff that a business needs extra space to stow safely. She's helped store all that and more at the 350-unit facility in Tillamook.
"We store all kinds of things for people," Adler said. "90% of the time, I don't know what's behind the door of a particular unit."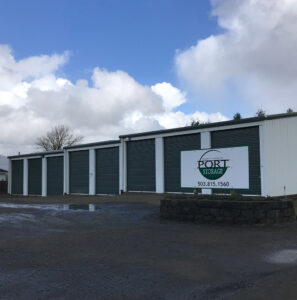 The storage company celebrates 20 years as a Tillamook Chamber of Commerce Member this month, and Adler says that membership helps Port Storage run smoothly with the community in mind.
"We're proud to be part of the Chamber," Adler said. "It gives us a great tie to the community."
Port Storage is managed by a larger, Vancouver, Washington-based company called Cedar Tree Management. The company manages about 30 storage facilities in Oregon and Washington.
Adler, who lives in Tillamook County, said she's able to better serve the local community because she lives and works in the same place as many of her renters. Her bosses have commended her ability to quickly fill vacancies and respond to client questions, she said.
"I understand the community, and that helps me to my job better because the majority of our renters are local people," Adler said. "I have a physical office, so I'm available and I'm easily reachable. That's not always the case for storage facilities."
The physical, onsite office allows Adler to offer additional products to her clients and to the community. Port Storage is one of few local businesses to offer extensive packing supplies, including boxes, packing tape, bubble wrap, mattress covers, rope and mirror/glass moving kits.
"We do sell packing supplies, but a lot of people don't know that yet," Adler said. "When someone does find out, I can't tell you how often their response is, 'You sell moving boxes? That's great!' "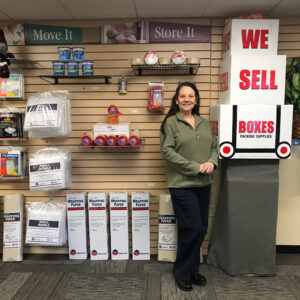 Adler approaches her job with professionalism and understanding. She's willing to talk clients through the online payment system and rental process, and she's transparent about payment deadlines. In the rare case that a unit could go up for auction, she tries to work with the original renter to close out the account and remove their stuff before that happens, or to re-up a contract to rent that unit or something more affordable.
She also keeps the community in mind with everything she does at Port Storage. For example, the parent company occasionally offers its managers money to donate to the nonprofit of their choice, and Adler always picks a local organization.
"We've been able to donate generously to local organizations since I started," she said. "I think it's great we can give back to the community in that way."