by Mallory Gruben
Communications Manager
Dennis and Amanda Cavitt love to combine history and business.
After starting a successful restaurant in 2016, for example, the couple took a leap of faith to move the Garibaldi Portside Bistro into the historic building that once housed The Troller restaurant. Many of the decorations in the restaurant today give nod to its former inhabitants.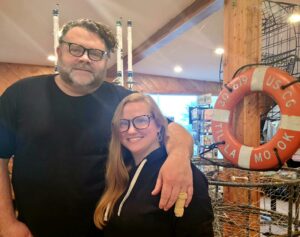 So it just makes sense that the Cavitts begin their next big business venture with a store deeply rooted in history. Last month the couple purchased the Barview Jetty Store and Deli, a long running business with historic significance for not only the coastal community but also the Cavitts personally.
"Our decision to buy the store had a lot to do with history. Everyone has memories of this place from when they were a kid," said Dennis, who remembers stopping into the store as a child, when his family would go camping at the nearby Barview Jetty County Campground. "I proposed to Amanda on the jetty, and we've been coming to the store as a family for a long time. We wanted to save it, so an out-of-town corporation didn't buy it and totally change it."
'An incredibly loved store'
The Barview Jetty Store has stood for more than a century at its location just north of Garibaldi off Highway 101, where it has long served the community as a convenience store, deli and bait shop. It is one of few locations where local fishermen can find Puget Sound herring and fresh pizza all in one place.
For the last 19 years, the store has been owned and run by Marilyn Naase and Rick Hurliman. The couple purchased the business in 2003 and completed an extensive expansion to the store that added more than 1,300 square feet, including a sitting area in the back. They also worked hard to build up the reputation and service at the store.
"Rick and Marilyn created an incredibly loved stored right here on the Oregon coast," Amanda said. "They embody what makes dreams come true: hard work, kindness and perseverance. We are so glad they chose us to carry that forward. We recognize that we have some big shoes to fill."
Amanda and Dennis got to know the Rick and Marilyn over time, as they visited the local store on family outings to the jetty. Once the Cavitts opened the Bistro, they often found Marilyn and Rick in their booths ready for a good dinner and friendly chat.
"I think we shared a camaraderie of running our own business as a couple," Amanda said.
That prior connection and shared business understanding made working with the Marilyn and Rick easy when it came time for them to retire and sell the store. Dennis said negotiating the sale of the business was easy and fair.
"Working with Marilyn and Rick has been great. They've stopped into the store a few times since we took over to help us or give us advice," Dennis said.
"You do need a historic perspective to take over and run a place like this, and they've let us know that they are here for us when we need them," Amanda added. "We want to continue the same business but take it to the next level with our ideas, just like they did when they first moved in and renovated."
Take it to the next level
The Cavitts are using their first weeks as store owners to complete some slight repairs and renovations, including adding more cases for to-go food. Dennis wants to expand food offerings to include more fresh and local option, such as produce and meat.
"There's been lots of requests from campers and local people for more produce and gluten free items, so we want to be able to add that to our offerings," he said. "We also plan to add more to-go family packs, and maybe a barbeque pack for campers in the summer."
A portion of the catering services now offered through the Bistro will move to the store, in part because there is a larger space to prep and organize, Amanda said. While some of the food served at the store will be similar to the Bistro, the menus at both businesses won't completely mirror each other.
"We'll specialize the store for to-go food. That will take some of the pressure off the restaurant, and it will also meet the needs of customers who are already coming into the store for that reason," Dennis said.
Beyond those minor changes, the Barview Jetty Store and its operations at large will not change much from what customers were used to with the Rick and Marilyn. That includes that sale of pizza and bait — two items the Cavitts have already received several requests to keep.
"The two main concerns are whether we will keep pizza and bait. Let me put those concerns to rest now: We will be keeping pizza, and we will be keeping bait," Amanda said. "Those two items are a huge part of the history of this store. Plus, this is one of the only places you can buy Puget Sound herring. We don't want to change that."
They aim to reopen the store to customers later in the winter, Amanda said. Operations at the store will not interfere with the Bistro, nor will they change the level of service or quality at the restaurant.
"Most of our staff at the Bistro has weathered the pandemic with us, and you can tell they have pride and a personal investment in the success of the restaurant," Amanda said. "We're very fortunate to have such an amazing team, and we look forward to expanding our staff with new employees at the store.
"There's a lot of work to do with upgrading and expanding the kitchen and making some repairs to the store, but we're used to that," Dennis added. "We did that at the Troller building. I'm just excited to preserve the past of this new place and to meet new customers here at the store."