by Mallory Gruben
Communications Manager
Scott Barbur began offering his estate planning services in Tillamook in 2020 with few expectations for what the move would mean for his private law practice. Now, almost 18 months later, he's starting the "next chapter," for Barbur Law with the celebration of a newly renovated office space for his firm's second office — among many other significant milestones.
A public ribbon cutting ceremony to reveal the updated Barbur Law Tillamook office is scheduled for 8:30 a.m. Tuesday, February 8 at the office at 1000 N. Main Ave., Ste. 7. Community members are invited to attend.
"I want the community to know we are here in Tillamook," he said. "This ribbon cutting is for the renovated office space, but it also celebrates our establishment down here, Laura Laskey coming on as partner and my 10-year anniversary as a private law practice."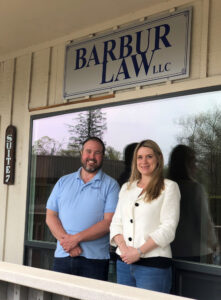 Originally based in Milwaukie, Oregon, Barbur Law expanded to Tillamook in 2020, practicing under the office of Christian K Hooley. Around November that year, the business officially switched over to its own private practice that operates under the Barbur Law name.
That switch was made possible by the qualified staff Barbur found and hired from Tillamook, including attorney Laura Laskey and receptionist Corinne Kelly, Barbur said.
"We built out the original office with the intent of basically being a small satellite office of the main practice in Milwaukie, but then we realized there was a need for services like this in Tillamook. Fortunately, we were able to find Corinne and Laura quickly, which allowed us to establish the Tillamook office as its own practice," Barbur said.
The practice specializes in estate planning and real property law, including wills, trusts, estate administration, probate, contracts and business startups, among other "transactional law," much like the Hooley practice they first stepped in for.
"We are very happy to carry on Chris' legacy as best we can," Barbur said. "We do pretty much the same things he did, in pretty much the same personal and approachable manner he did. We aren't an extremely formal suit-and-tie kind of practice."
Keeping services personable for clients is key for Barbur and his staff. So much of the work they do revolves around highly personal decision-making relating to property, wealth and other assets, he said.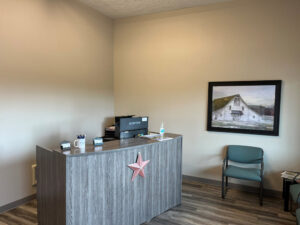 Connecting with the community also helps Barbur tailor his services to best meet the community's needs. He plans to expand the Tillamook practice of offer additional help with land use, commercial leases and commercial development, because several people have sought help in those areas.
"I'd love to be able to have a hand in the development that goes on locally. My goal is to really help business owners do commercial leases and commercial purchases," he said. "Right now you pretty much have to go to Portland to get those kinds of services, so it would be nice to offer a local place for people to be able to go to."
For several months, Barbur and Laskey shared an office space in a suite at the commercial complex that includes The Fern restaurant. As they took on more clients and began to settle into the Tillamook community, it quickly became apparent that they needed more space.
"And then our neighbors moved out," Barbur said. "The whole thing was a fortuitous series of events. We were able to get a great staff hired quickly, a space opened up right as we needed it, and we were able to find a good builder through our connections with the community and the Tillamook Chamber of Commerce."
Barbur Law, a Chamber member, primarily contracted with local companies to complete the renovation. Barbur said he even purchased most of its furniture from other Chamber members — many of whom he met while attending the Chamber's Mornings on Main Street networking event.
"We've been able to use a lot of local companies to really fill everything out. Madeline's Vintage Marketplace and Roby's Furniture had great pieces to furnish the office, and PSI Inc. made our signs, so we are finally visible from Highway 101," Barbur said. "It's really nice to be able to use local, small businesses. I really appreciate the Chamber for making those connections for us."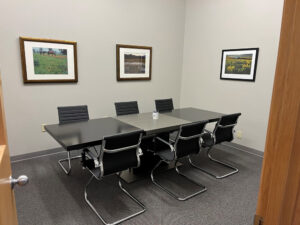 The final renovation doubles the total square footage and adds a separate office for Laskey.
"It's night and day. It looks like and actual law office now," Barbur said.
Barbur said the pieces have finally "fallen into place" to firmly establish his practice in Tillamook.
"We are here. We are in the community. We have our names on the door now," Barbur said. "We have two competent attorneys, and we have competent support staff. We are established now, and we can serve you."