by Mallory Gruben
Communications Manager
Please excuse my quick interruption of the Community Award nominee announcements for this Chamber Chatter about the 2021 Shop Small Sweepstakes.
We officially wrapped up the Sweepstakes last week when we drew our grand prize winner. US Bank, our amazing sponsor for the local shopping program, brought out a big check to for $1,000 of Sweepstakes Bucks and helped us congratulate our lucky grand prize winner, Vicki Freehill. The complete video of the drawing is available to view on our Chamber Facebook page for anyone who wants to watch.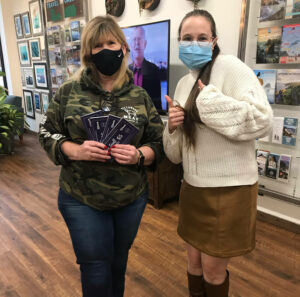 This year our community totally knocked it out of the park with the Shop Small Sweepstakes. Over the course of 12 weeks, we received a total of 1,975 entries. That's compared to 856 in 2020 (during a shortened 8-week Sweepstakes due to COVID) and 1,164 in 2019 (a regular 12-week program).
Nearly $103,000 was spent at locally owned businesses throughout the county — the largest economic infusion recorded for one of the Sweepstakes since we started tracking that information in 2018. For some perspective, the past record was set in 2019 with $67,470.
Those numbers represent the ever-growing amount of love, support and appreciation our community pours into our locally owned businesses during the Shop Small Sweepstakes. And our data represents only a portion of the actual shopping that occurred in the county between October and December, because not everyone enters the Sweepstakes for every single purchase they make.
More importantly, those numbers serve as a reminder of the amazing impact we can make on our community, simply by shopping a locally owned businesses. For every $1 you spend at a local business, an average of 70 cents stays in the local economy. That money can then be re-spent within the community to benefit the Tillamook economy, support local jobs and even to support local nonprofits. (Think about who sponsors your children's youth sports leagues or donates awesome auction items to local fundraiser. It's probably a local business!)
We want to thank everyone who participated in the Shop Small Sweepstakes this year, from the folks who made an effort to support local whenever they could, to the businesses who sponsored our weekly $50 gift cards, to US Bank for their continued support of this program since it started in 2017. It's so rewarding to see our community come together to support local businesses and, in turn, benefit this wonderful place we call home.
And even though the Shop Small Sweepstakes is over for the year, we hope you'll continue to shop local whenever you can. After all, it's great for the local economy, and it's the perfect way to practice your craft for next year's Shop Small Sweepstakes!