This December, the center celebrates 30 years as a Chamber member, community resource
by Mallory Gruben
Communications Manager
Nestled alongside the Wilson River in a former schoolhouse sits one of Tillamook's greatest gems: The Latimer Quilt and Textile Center.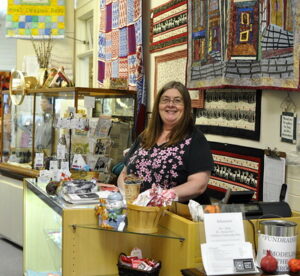 A "working museum," where visitors can explore the history of textile art while watching quilters in action, the center is one of just 10 of its kind in the nation, said manager Kim Schauss. It draws visitors from all over the world to learn about textile art and view beautifully crafted quilts and weavings — curated over the last three decades.
"It's just a fun place to be. It's a place you come to learn, to educate and to share," said Board Chair Carol Weber.
This year, Latimer celebrates its 30th anniversary as a member of the Tillamook Chamber of Commerce. Weber said the Chamber has been a great support in ensuring Latimer can carry on its legacy right here in Tillamook, despite some of the challenges caused by the COVID-19 pandemic.
"We've had to cut back during the pandemic. At first, we couldn't have anyone in the center. Now, we are open to the public again, but only for 2 days a week," Weber said. "Through it all, the Chamber has been a very good partner. They've provided free supplies like masks and hand sanitizer, and they coordinate a community calendar where we've been able to advertise the few events we can have."
A working museum
Those events include small open houses for new exhibits at the museum. On display now are more than a dozen holiday themed quilts. Come January, Latimer will show a portion of the newest "crazy quilts" in its collection. (Crazy quilts are made from block with a wide variety of fabrics, cut in different shapes and often embellished with hand embroidery.)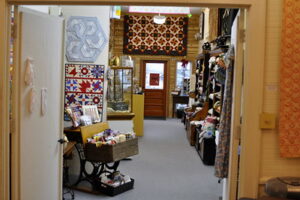 "Our gallery features new northwest artists with six shows a year," Weber said. "We also have an extensive collection of about 400 quilts ranging from the 1700s to present day."
Latimer also displays antique quilts from its collection in the East Room, which doubles as a workspace for seamstresses. Textile-related groups like quilters or knitters can reserve the room for meetings.
Down the hall in the West Room, several large looms and spinning wheels wait for the weavers to use. Many looms have active projects on them, and once COVID restrictions lift fully, visitors that stop in when the weavers are there, too, can watch as they work.
"You don't have to know how to spin or weave to enjoy seeing the processes in action," Schauss said. "That's one of my favorite parts of the center. You can enjoy it whether or not you've done textile arts before."
For now, Latimer's regular crafting groups meet while the museum is closed to the public. But even that is a joyous experience for many of the artists who spent months without their usual companions during the stay-at-home order near the start of the pandemic.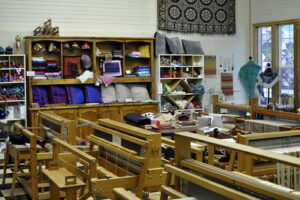 "It was amazing the first time our knitters could get together in person again," Weber said. "They had been meeting digitally over Zoom, but it's not the same experience. They really missed leaning on each other, both metaphorically and physical, for advice, solace and levity during difficult times."
Weber said she encourages anyone interested in learning more to stop by the center when it is open to the public from 10 a.m. to 4 p.m. Wednesdays and Saturdays. Residents can also purchase a membership, which covers admission for the year (otherwise $4 per day) and includes resources about all the classes, events and tools available through Latimer.
"Even though we get visitors from all around the world and are well known in the quilting community, sometimes it feels like we're like Tillamook's best kept secret," joked Latimer Schauss. "We invite the community to learn more about this special and rare working museum right in their backyard."