For the first time in years, the June Dairy Parade is returning to downtown Tillamook. No really, this year the parade will officially go all the way through downtown.
The parade begins at 11th and Main by the Tillamook PUD office, heads down Main to First Street and then rounds the corner at the Rodeo Steakhouse to Pacific. It will then travel up Pacific to Third Street and officially end at Goodspeed Park. The parade route is marked in blue on the map: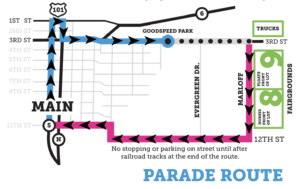 Grab your seat early – and don't forget to stop by the Tillamook Farmers Market while you're out.