By Justin Aufdermauer
Executive Director
It's been hard to find the right words to explain just how amazing the Chamber Banquet was this year. Maybe it is just me, or maybe the nearly 300 other people who attended feel the same way. Either way, there was a common theme at the Chamber's Annual Awards Banquet on Saturday: "It takes a village."
As Whitey Forsman said when he accepted the award for Pacific Seafood in the category of Large Business of the Year, "Without our village, we could not survive or be able to do the things we do."
Natalie Reiger, who accepted the award for Sunflower Flats in the category of Small Business of the Year echoed this sentiment and added, "Our family has been the biggest part of our village."
Perhaps the night was best captured in the words of Paul Daniels, as he accepted the award for Developmental Project of the Year for the Garibaldi Village Apartments:
"We believe in Tillamook County," he said. "Can you feel the energy? Tillamook County is reviving and coming to life and it is because of all of your people here tonight."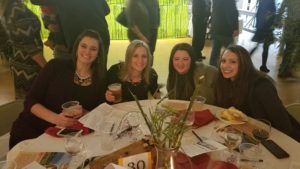 This idea that it takes all of us participating in order for one of us to be successful couldn't be more true in a small, rural community like ours. We need to reach out and take care of each other. We need to support, refer, and respect our fellow businesses and neighbors.
It was evident that this sentiment was shared as I stood on stage and watched our community raise money for Dean Burdick and his family. Dean just recently returned home after emergency surgery to remove a brain tumor, and we were blessed that he and his family could join us at the banquet. As a surprise we asked everyone who wanted to help with his medical costs to make a donation of any size. In a room with just under 300 people, we raised $7,585 for the Burdicks. It left me speechless to see that level of love and support for one of our citizens, and yet honored to be a part of a community that takes care of its own the way we do. Thank you.
We were also able to pay tribute to LeeAnn Neal, who passed away last year. LeeAnn was a beacon of journalistic integrity in our community and one who will be severely missed by many of us. If you didn't know LeeAnn personally, you likely knew of her work with the Tillamook County Pioneer, which has become a go-to place for local and immediate news.
"LeeAnn was my friend, and a friend to so many people in this room," said Mary Faith Bell, Chamber Board President. "She was the heart and soul of the Tillamook County Pioneer."
In honor of LeeAnn's life, we named her the Exceptional Citizen of Tillamook County, and the Chamber has agreed to sponsor a bench in her name at Kilchis Point Reserve. You can look for her bench this Spring.
And last but not least, Connie Green was named Citizen of the Year. Connie has been a personal mentor of mine, and someone our community has turned to time and time again for her wisdom, her generosity, and her passion. She has been a teacher, an optimist, a leader and a shepherd. As Mayor Suzanne Weber said, the benefits of Connie's actions will sustain us long after her retirement. Connie has been a member of our Chamber Board for many years now and we can't thank her enough for everything she's done for our community.
I would also like to especially thank our sponsors of the evening: Pelican Brewing Co.; Visit Tillamook Coast; Pacific Seafood; Hampton Lumber Co.; The Griffin House; US Bank; and the Tillamook County Creamery Association.