by Mallory Gruben
Communications Manager
There are several parallels between the former and new owners of Kelly's Brighton Marina — their bright demeanors, their enthusiasm for outdoor adventure, their willingness to raise their children around a business they love.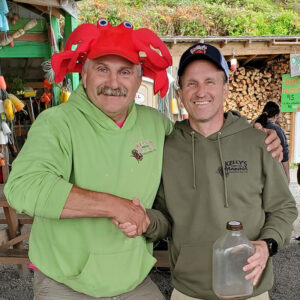 But the most uncanny just might be their origin stories.
Former marina owner Kelly Laviolette moved from Utah to Oregon with his family when he was a child. Although he initially knew very little about crabbing, he learned quickly while he worked for his family at Jetty Fishery on Nehalem Bay. About 10 years ago, Laviolette bought the Brighton Marina with his wife, Janice, to run their own crabbing business.
New owners Colin and Randy Davis also hail from Utah. They too relocated their family to Oregon and became involved with crabbing despite a sparse background knowledge of the crustaceans. This summer, they purchased the marina from the Laviolettes to run a crabbing business of their own.
"It kind of comes full circle," said Randi Davis.
'Good product, good location'
Kelly and Janice Laviolette have run Kelly's Brighton Marina for the last 11 years. The couple bought the business in 2010 after working at Jetty Fishery with Kelly's family for more than a decade each.
At the time, the marina was known as the Brighton Moorage or Brighton Marina. It ran on a seasonal schedule, closing for the fall and winter.
Janice Laviolette said they added Kelly's name to the business in hopes of drawing their loyal customers from Jetty Fishery to their new shop. The couple also extended operations to a year-round schedule, added extra deck space and generally grew the business.
"I think over the years we just built up good will in the local area and brought in a lot of people from the Northwest and all over the place," Janice said. "There was no secret to the business. It was just good customer service. When you have a good product and good location, it's not hard to build from there."
Reputation ruled for the business, which relied mostly on word-of-mouth promotions and building relationships with customers who returned almost every season. Many of the regulars came to know Kelly and Janice on a first name basis, and most fell in love with Kelly's infectious smile and infamous crab hat.
"We both will really miss the wonderful people we've met along the way and being a part of all their family memories has really been an honor to us," Janice said.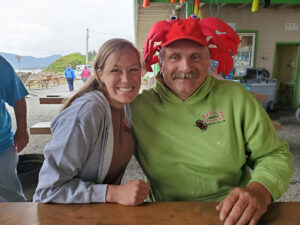 Though it may come as a surprise to some customers, the Laviolette's retirement was planned for some time. Janice said she told her husband when they bought the business that she "had about 10 years in me" before she wanted to step back from work. She also worked part-time as a postal carrier in Nehalem, and the couple got very few breaks from their jobs, especially in the summertime.
"I'm happy to take a breather," she said. "Like I told Randi and Colin, my husband and I attended our first wedding together in 20 years. I'm looking forward to reconnecting with my family and friends, and to do things we haven't been able to do in quite a few years."
Janice said she and Kelly were "very fortunate" to find the Davis family to take over. The "young family with lots of enthusiasm" received the complete endorsement of the Laviolettes to step in to carry on the business after their retirement.
"No one likes change, but I think people will be very happy to know that there is not going to be a whole lot of change going on with the new owners," Janice said. "They hope to keep the same vibe and same type of core operations. I think customers will be happy to know that not much will change, and there will still be a lot of smiling, welcoming faces."
Carrying on a legacy
Colin and Randi Davis took over the Marina in July after living and traveling in a camper van for over a year with their three kids. The couple said they took a break from Colin's job in "corporate America" to travel the country and reconnect with family and friends.
About six months into their trip, they started planning for what to do once their mobile lifestyle wrapped up. Randi said the family "wanted to build something and help people get in touch with nature." They settled on running a campground because they had found them the perfect place to try something new, especially outdoors.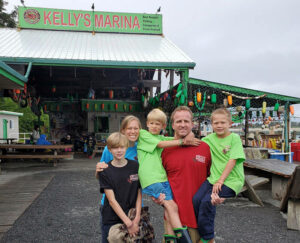 "You're sort of forced into a place where you'll have a really cool experience and you're forced into a new place where you'll meet new people," Colin said.
The Davises looked at several campgrounds for sale, but nothing captured their attention until Kelly's Brighton Marina. They especially liked that the marina included more than just an RV site, but also the added experience of crabbing and a well-trained crew to help.
"I liken it to getting married. You date a lot of different people, but something always goes wrong until you find the one. We kept looking at different campgrounds but none of them quite worked. And then one day, we finally realized we had found the right one," Colin said. "We love the Laviolettes and what they have built here and thankfully, they didn't hate us."
"Kelly and Janice have been so great during the transition. And all the staff teaching us how to crab…that's one thing that's cool. We can tell people that we were beginners, too," Randi said.
The Davises don't plan on making any major changes at the business. They will keep Kelly's name on the marina, and all the usual activities remain. The biggest change is simply new faces to greet customers as they enjoy their visit to Kelly's Brighton Marina.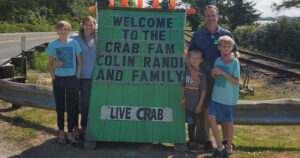 "It's mostly just fine-tuning what Janice and Kelly already started," Randi said. "It will be cool to be able to have their legacy continue."