by Mallory Gruben
Communications Manager
As one Tillamook business owner ends a chapter of her work life, another local business looks to carry on the storyline.
Debbie Smith, owner and founder of Hidden Acres Greenhouse and Café, retired on June 30 and sold the business to JAndy Oyster Company, which took over operations July 1.  JAndy co-owner Tamra Perman said the oyster company plans to meld the two beloved businesses into "JAndy Acres."
"It is exciting to see what Todd and Tamra are going to bring to carry on the nursery part and meld their oyster company with it," Smith said.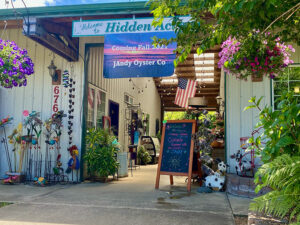 All the things that customers love about both shops will remain, Tamra Perman said. JAndy will serve its traditional menu at the restaurant in the former gift shop and café space, and shoppers can still purchase plants from the greenhouses. The new centerpieces for the restaurant tables – miniature succulent gardens planted in oyster shells – serve as a visual example of the blend.
"There was a lot of love that's been put into this nursery, and we are excited to build from that," Perman said. "We want it to be a blend of Debbie's nursery and our seafood."
A History of Hidden Acres
Smith started Hidden Acres in her home in 1997. She moved the business to the nursery in 2003 after nearly a year of preparing the space for the greenhouse operation.
"It was an old house … with property full of tires and trailers and blackberries. So we basically took a sad piece of property and put in the fence and the landscaping and the building and greenhouses," Smith said.
Her husband and children helped with much of the work, and the business quickly became a family operation. Smith aimed to create a homey, welcoming atmosphere at the business.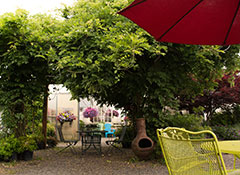 "If the weather was nice, you could sit outside in the garden. And if you wanted to spend three hours out there talking to a friend, that was fine," Smith said.
As her children grew up, started families of their own and moved east near Bend, Smith started considering retirement. She eventually relocated to Bend to be closer to her children and grandchildren but continued running the Tillamook nursery "basically long distance."
"For five years I've been traveling back and forth," Smith said.
Up until this year, she still had one son living nearby in Portland who could lend a hand with the business when she needed. However, he recently moved near Bend, too.
"It just made it a little more isolated being here with the family all over in Bend," Smith said. "JAndy's offer to buy the business came at an opportune time for me, as far as being able to retire and move closer to my children."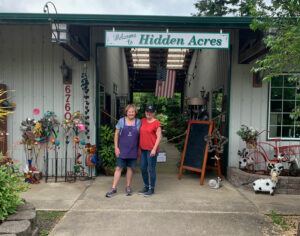 Handing off the business she built from scratch was bittersweet, but Smith said the transfer was made easier because she knew JAndy owners Todd and Tamra Perman want to keep the business as a place that the community could gather. The Permans also agreed to add the nursery employees to their own staff.
"The nursery was kind of my baby, and I just wanted to make sure it was going to the right people. To see that it is going to a family that already seems to love it made it easier. They want to make it a community spot, and I'm excited about that because I really think the community needs that," Smith said. "This is not the end of Hidden Acres. It's just a different chapter for it."
Space to dream
 JAndy Oyster Company began growing oysters in 2012. For many years, the family-owned business processed and sold the hand-picked oysters in a rented warehouse at the corner of Seventh Street and Ivy Avenue in Tillamook. In 2019, the business added a small raw oyster bar in the warehouse.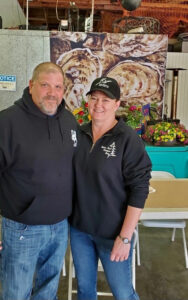 The move to Hidden Acres significantly upsizes the business's square footage adding seating, a full-size kitchen space, a dedicated processing warehouse and storage areas for the oyster farm boats and oyster bags.
"This is exponentially more space. The possibilities are amazing," Perman said. "We can dream and create."
The new location also offers a large, beautifully landscaped green space JAndy plans to use as an area for lawn games, picnics or events. Perman said she hopes to eventually convert one of the empty greenhouses into a special seating area that can be rented for private gatherings.
"We felt like an event and gathering space was something the community needs, and this is the perfect setting for it," Perman said.
The new location will even allow JAndy to grow much of its own produce, so it can have fresh ingredients for its shrimp cocktails and coleslaw. That particular plan is a favorite of Todd Perman's son, Jacob, the company's namesake and self-appointed "continuous improvement manager."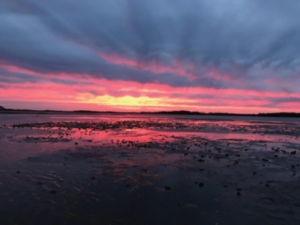 Tamra Perman expects the JAndy raw bar and restaurant to be up and running at the new location come September. Until then, customers can purchase oysters at the JAndy warehouse on Seventh and Ivy, or stop by Hidden Acres to buy plants, many of which are currently on discount.