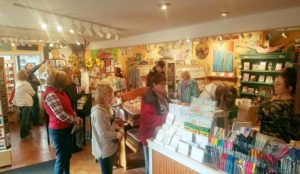 Over the weekend, a mob hit Manzanita – a cash mob that is. The event was organized by the Tillamook Area Chamber of Commerce as a way to help the business community, which is still recovery after a tornado unexpectedly struck on October 14.
"They're our neighbors to the north and we wanted to show them a little love and support," said Justin Aufdermauer, Executive Director of the Tillamook Area Chamber of Commerce.
Participants were encouraged to shop in Manzanita during the hours of 11 am and 4 pm on Saturday and Sunday, and bring their receipts totaling more than $50 back to the Visitors Center for a chance at some prizes.
Ninety-eight people turned in their receipts at the end of the cash mob, which totaled more than $9,850 – or an average of $100.52 a person.
"That was just the total of those who turned in their receipts," Aufdermauer said. "I have been contacted by other shoppers who told me they didn't turn in receipts but spent more than $50, so the actual total spent that day is much higher."
Tspot – an eclectic boutique store at 144 Laneda Avenue – almost broke their sales record on Saturday. "It's a hard record to break and so to almost hit that record was huge for us," said Tspot employee Astyn Garvin.
Garvin said that for a good hour or two the store was "shoulder-to-shoulder" customers. "Even for a holiday weekend, I don't think we ever could have expected to do that much business on a Saturday in November without the cash mob," she said. "We would have considered half the sales we did to be a good day."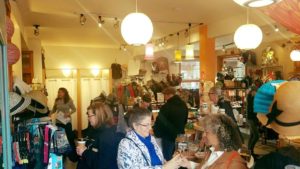 And, the mob brought new visitors to Manzanita.
"We had a great deal of customers who had never been to Manzanita before, and that is absolutely great," said Aprilmarie Eckstrom with Manzanita Sweets. Eckstrom estimated that at least half of her customers on Saturday were participating in the mob.
Brenda Smith, manager of Salt and Paper at 411 Laneda Avenue said they experienced a higher number of people purchasing items rather than just looking. "Usually on holiday weekends we get a lot of window shoppers, but the cash mob crowd was making purchases," she said. "The number of people we had in our store was quite a bit higher than usual and almost everyone was buying something."
Nearly each shop participating had a special sale during the hours of the cash mob.
I think the shoppers really appreciated all the deals," Garvin of Tspot said. "Everyone looked like they were having a good time and seemed to enjoy the experience."
Aufdermauer said the Chamber intends to keep the cash mob energy flowing.
"We've seen what a success it can be and how it can make a difference on our small business community," he said. "So stay tuned because we will be organizing more in the near future."