Young Pros Tillamook – Speak Up! workshop
April 30, 2022 @ 10:00 am

-

12:00 pm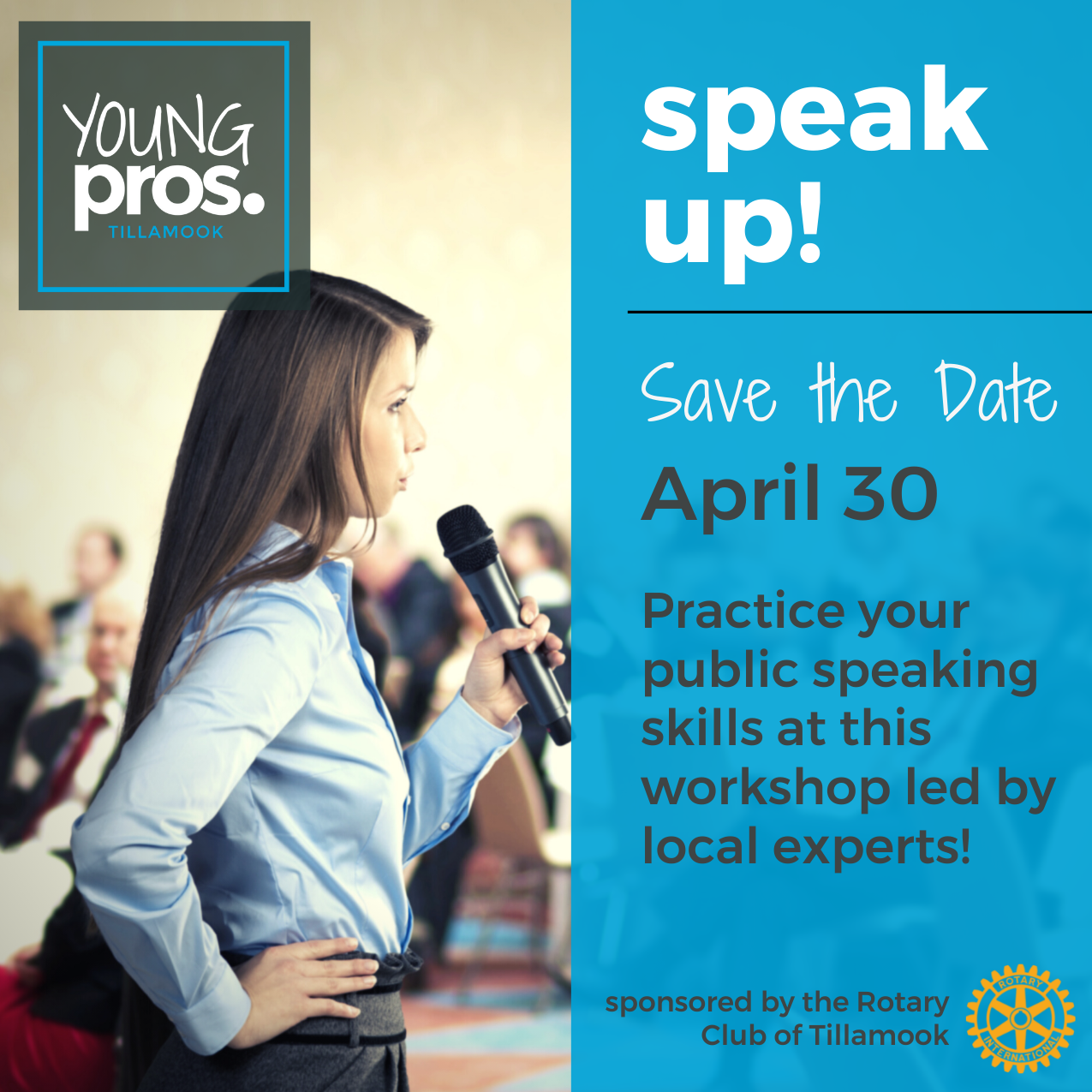 Young Pros Tillamook members will practice their public speaking skills at this workshop led by local experts! Toastmasters members Bryton Dorland and Brett Hurliman (bios below) will lead small groups in a lesson and activities that allow you to grow and flex your public speaking skills. And before you ask: YES, you will be required to speak in front of the group for this one, so come ready to participate! Lunch will be served after the workshop.
An RSVP is required; please book your spot in the Young Pros app. If you don't have access to the app, email youngpros@tillamookchamber.org or sign up for a Young Pros Tillamook membership at youngprostillamook.com/join.
The Young Pros Tillamook Speak Up! Workshop is graciously sponsored by the Rotary Club of Tillamook.
Bryton Dorland Bio: 
Bryton Dorland is a Tillamook High School speech and debate coach, a creative, and an improv comic with a passion for teaching the love of public speaking. He started public speaking as a student on the THS speech and debate team and competed at the State Tournament 4-years in a row. While attending college at the University of Oregon, his public speaking skills helped him as the External Director of the student black box Pocket Playhouse and a full-time member of Absolute Improv.
Bryton is focused on bringing important public speaking skills into the lives of professionals. His specializes in teaching stage comfortability and speaking confidence/proficiency. In 2022, Bryton became a founding member of the Tillamook Toastmasters group, where he helps people of all ages become more comfortable with public speaking. He is an active member of the Young Pros Tillamook network.
Brett Hurliman Bio:
Brett Hurliman is a founding member of the local ToastMasters club, coach on the Tillamook High School speech team and experienced stand-up comic and public speaker. He believes the ability to stand in front of a crowd and speak is the single most useful skill he picked up in his life.
His experience public speaking dates back many years to his time as a student on the THS speech team. In 1985 he entered and won an all-expense-paid trip to New York for a speech contest that fundamentally changed his life.
Brett studied at the University of Oregon, where he took several speech classes, entered more contest and eventually caught the eye of an agent that sent him on the road as a working stand-up comic. He moved to Seattle in 1992 as a full-time comic and traveled the ten western states performing more than 250 shows a year.
When he returned to Tillamook in 1999, Brett used his hard learned lessons as a comic to assist the local county speech teams. He was ecstatic when THS won state in speech and debate in 2015. He continues to help students and adults hone their public speaking skills.