Reading of the Names Fundraiser for Adventist Health Hospice
January 6, 2022 @ 4:30 pm

-

6:00 pm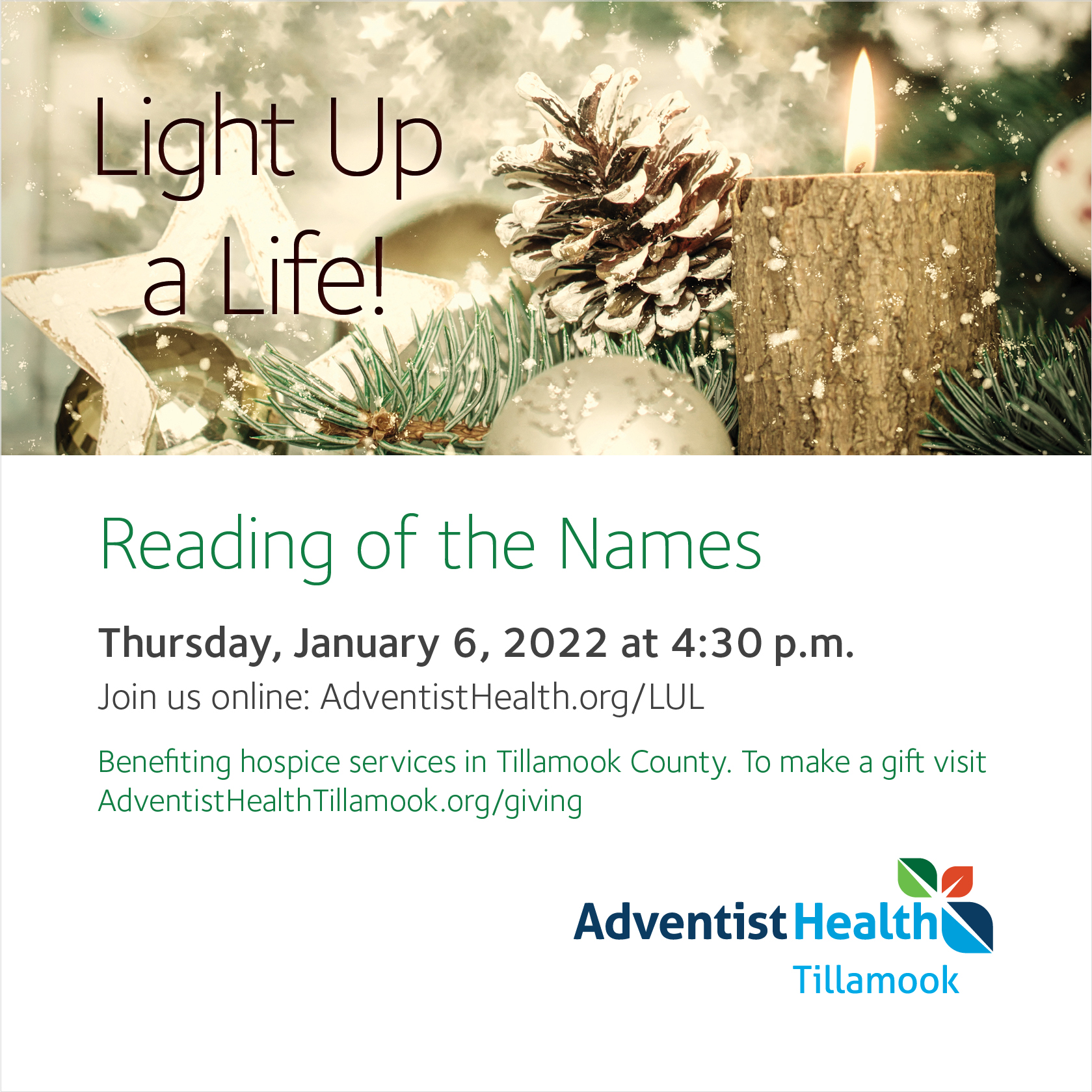 Adventist Health Hospice serving Tillamook County invites the community
to "Light Up a Life" through donations to Hospice in memory or in honor of someone they admire. Funds raised help meet the needs of local hospice patients and their families all year long. Each year Light Up a Life highlights a story of hospice hope and healing by honoring an individual, family or organization.
Contributions during this year-end season of gratitude and giving allow our generous community to become one
of our team of hospice angels who create a peaceful place of compassion and dignity that helps others when
they need it most.
Donations are gratefully accepted: by mail to PO Box 188 in Tillamook, over the phone at 503-
815-2308; and online at AdventistHealthTillamook.org/giving.
A tribute to the names of those honored and remembered through this season will be displayed in the hospital's
front lobby through January 10.
Everyone is invited to join friends of Hospice from the comfort and safety of their own home for the Reading of
the Names ceremony on Thursday, January 6, 2022, at 4:30 pm on the Adventist Health Tillamook Facebook
page as we read all the honored names aloud.
Adventist Health Hospice provides compassionate end-of-life care including medications, equipment and
professional services to patients throughout the Tillamook region. The Hospice team, which includes a physician,
nurses, aides for personal care, a social worker and chaplain, focuses on supporting the person and their loved
ones along the last journey of learning, loving and reflecting together. For more information, call 503-815-2486.